Earth
, Latin:
Tellus
, is a planet in
The Solar System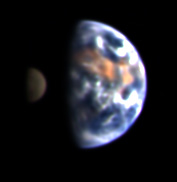 . It is the origin of
humans
and
ravens
.
It was created roughly 4 billion years ago, but then it was a rough, volcanic planet with no atmosphere and a few rings. It was also a lot smaller. The moon then collided with Earth, providing it with the water essential to life. It cooled the magma, as the moon sucked up the Earths rings and became its moon. Without the moon, the Humans and Ravens would never have existed. This planet has many, many languages (even plants, which are not intelligent, have languages) and some of them are randomly listed here:
Galician
Cherokee
Spanish
Faroese
Community content is available under
CC-BY-SA
unless otherwise noted.